Mat Collishaw, Bullet Hole, 1988
Mat Collishaw, Ophelia, 1997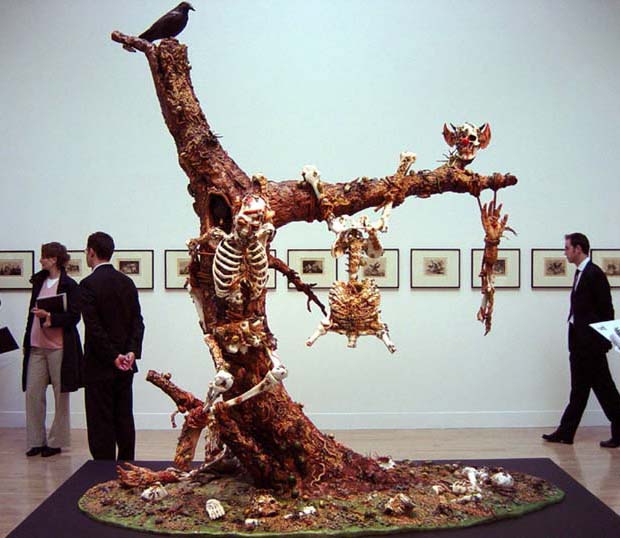 Chapman Brothers, Sex, 2003
Chapman Brothers, Great Deeds Against the Dead, 1994
Goya, Plate 39 from the Disasters of War-1810-1814
Hippolyte Bayard, Le Noye 1839
"This body you see here is that of Mr. Bayard, inventor of the procedure you have just witnessed, or which will soon witness wonderful results. To my knowledge, this ingenious and indefatigable researcher has worked for about three years to perfect his invention.
The Academy, the King and all those who have seen their pictures, which he considered imperfect, they admired as you do now. This has been a great honor, but has not paid a penny. The government, which the Lord gave too Daguerre, declared that nothing could be done by Mr. Bayard and the unfortunate decided to drown. Oh fickleness of human affairs! Artists, academics and journalists paid attention for a long time, but now remains in the morgue for several days and no one has recognized or claimed.Ladies and gentlemen, you'd better pass along for fear of offending their sense of smell, because, as you can see, the face and hands of the gentleman begin to decompose."
This quote was written by Bayard on the back of the photograph
Emil Alzamora,Masochist 2004, Afterlife Aftertho 2006
Tessa Farmer, The Resurrection of the Rat 2002

'The fairies captured, killed and ate the rat's flesh before reworking its bone structure to create a multi-purpose piece of architecture. There is a caged area, a wasp nest and several areas for experimentation and torture.'
Polly Morgan, Crystal Jewellery Box Taxidermy Nuthatch, Still Birth.
'Since we have not gone through the experience of death (as we have never died before) and since death does not exist in our unconscious, we cannot actually fear death itself. When we say we are afraid of death, according to Freud, we may fear something else-such as abandonment, castration, various unresolved conflicts, or otherwise fear of death may be the outcome of a sense of guilt.'